Apocalypse Rising is a very popular zombie apocalypse game.
You start off in the game with a lovely character creation screen. You can choose from several outfits and hairstyles. After you finish that you click the "Spawn" Button and you're taken into the game. You start off with a flashlight and a pistol. The goal in the game is to explore the land and fight zombies.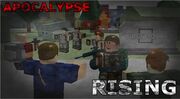 There are many other players you need to look out for. You can create a group of players by using the "Group" GUI. Be careful though. A group member could betray you at any time.
The game has a day/night cycle that is a 24-hour day. Each in-game minute is equal to one second in real life. There are many different things you can find on the ground. From an assault rifle, to a road flare.
The game also has a hunger and thirst system. Food and Drinks spawn throughout the map at any given moment. But if you can't find any in time... You could die from hunger or thirst. In the game, when you die your things are scattered all across the ground leaving your corpse there for other players to find.
Game Information
Edit
The game has several people that worked together to make it. Those people are:
Guzmanak (Design)
ZolarKeth (Scripting)
PkThunder (Comics)
SkateBored (Gun Models)
The game is the second runner up for "Best use of dynamic lighting"
The game has many badges for you to earn. Each badge has three stages, for example:
Hero: ("Awarded to those who kill at least 3 bandits without any aggressive kills, and survive for 3 days.")
Savior: ("Awarded to those who kill at least 7 bandits without any aggressive kills, and survive for 7 days.")
Guardian: ("Awarded to those who kill at least 15 bandits without any aggressive kills, and survive for 15 days.")