Guests are players that are new to ROBLOX and have no account. They can only speak with Super Safe Chat (Pre-approved phrases) and only see Safe Chat. They are hated a lot because they know nothing about ROBLOX.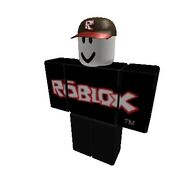 Guest's Character
ROBLOX made guests in 2009 to allow players who are not registered on the site to try the game before making an account. When guests were made, their body colours were lime legs, yellow arms and head, and a blue torso.
The guests' appearance was changed again in 2010, they looked like the ROBLOX account (ID 1), they had black legs, white head, a shirt that says "ROBLOX" on the front and "Make a free account to change how you look" on the back, and the hat that roblox wore. ROBLOX wore a well worn hat (Erik's hat).
In 2011, roblox took off it's hats, and guests became bald.
In june 2013, roblox added genders for guests, and guests can now choose between two different characters, the male character wears a hat with the roblox logo on it, and the female character has pink hair.
Guest Hate
Guests are hated by many players because they are new to ROBLOX, don't know how to play, and can't use free chat.Guests can ruin games where the player needs to use free chat to play, like "RO-Pictionary" and "Guess What I'm Drawing". Most guests can't respond to any message, even if it's a safe chat message, because they don't know how to use the safe chat. Because guests are new, they are usually bad at playing games, and people dislike them because they are too easy to defeat, and are not challenging. In roleplaying games, guests are a waste of server space because they cannot speak.