Intense Sword Fighting is a popular Sword Fighting game because of its variety of swords and maps.
Intense Sword Fighting (ISF) Is a sword fighting game. It has several different maps to fight with your opponents on. The game has an auto-duel system, where if you're standing around at the hub, you'll be automatically teleported into a duel with another player. The game also has a custom duel system, where you can type "duel/username" to send a duel request to a player. The player must accept by typing it back for the duel to take place.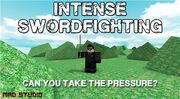 The game has a VIP game pass. This game pass enables you to buy certain swords. There is a GUI shop in the game which you can access at any time in game by clicking "Shop". The game includes a variety of swords you can purchase with in-game points or Robux/Tix. These swords include things like: Darkheart, Tix Sword, and a special sword called "????".
Game Information
Edit
The game is made by the ROBLOX user: loleris. The game is competing with the other popular sword fighting game called Sword Fighting Tournament, by TheGamer101. The reason ISF is so popular is because every single sword that you buy does equal damage. Which makes it a fair game. The point of buying the swords is so you can show off your style, or just look threatening by having an expensive sword. You get 12 points for every win you get. (Not including ties)