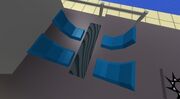 Trade hangout is popular for it's advanced GUI systems. It is also one of the few "Trading" Games on ROBLOX.
When joining Trade Hangout, you have a few GUIs. You can view your limited items with one GUI, and another GUI is a normal "reset" button. You can click on players to view their limited items also. Another cool feature is that it shows how many tix you have. Any player can view it, as it is floating above your head.
Information
Edit
Trade Hangout is a Builder's Club only game. Which means only users with Builder's Club can join. This reason is because only Builder's Club members can trade. The creator of the game is the ROBLOX user: Merely. The place has about 2,000,000 visits. I (Adam2090) personally think that it is the best "trading" game on ROBLOX.